If a new IT service is to be provided to the business, or the provision of an existing service reviewed, then a cloud service could be an option. There are now a variety of ways of delivering an IT service to the business, ranging from the traditional model through to Software as a Service:
---
The traditional model: Buy and own hardware and software, host and manage in-house
Consolidate and virtualise infrastructure, host and manage infrastructure and applications in-house
Co-locate virtualised infrastructure in a 3rd party datacentre, manage infrastructure and applications in-house
Infrastructure as a Service (IaaS) – rent a virtualised infrastructure rather than owning your own, manage the applications in-house
Software as a Service (SaaS) – rent the application and perform only end user administration type tasks in-house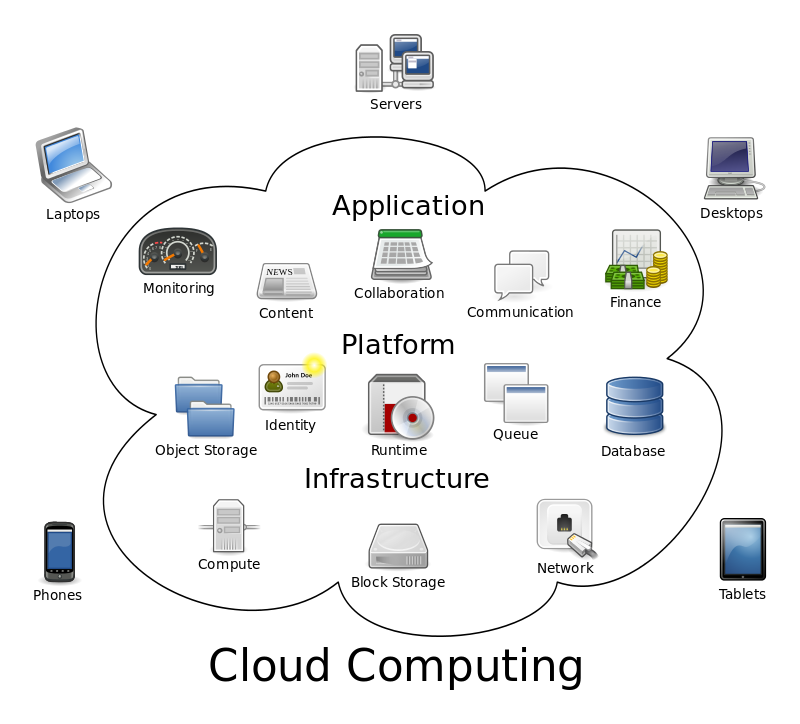 You will need to assess the IT service you are considering against a number of criteria such as business requirements, system interoperability, security and regulatory compliance and service levels to determine the most suitable option for delivering the service. See our white paper which details these considerations for cloud computing.
Features
1. Flexibility


In fact, this flexibility is so crucial that 65% of respondents to an InformationWeek survey said "the ability to quickly meet business demands" was an important reason to move to cloud computing.
 4. Cap-Ex Free Computing


Whether you go with a public cloud or outsourced private cloud computing option, cloud computing delivers a better cash flow by eliminating the capital expense associated with building the server infrastructure.
 2. Lower Costs


Cloud computing pools all of the computing resources that can be distributed to applications as needed – optimizing the use of the sum of the computing resources and delivering better efficiency and utilization of the entire shared infrastructure.
5. Lower Maintenance Costs


With an outsourced cloud, you don't need to keep server, storage, network, and virtualization experts on staff full time.  You get economy of scale of those expert resources through your cloud provider.
3. Scale as Needed


As your applications grow, you can add storage, RAM and CPU capacity as needed.  This means you can buy "just enough" and scale as the application demands grow.
6. Network Access


Cloud computing simply means network access from just about anywhere worldwide. You just need to log in to your account using an internet connection in order to extract the important information from the service provider's website.